Metro Denver Green Home Tour
October 1 @ 9:00 am

-

4:00 pm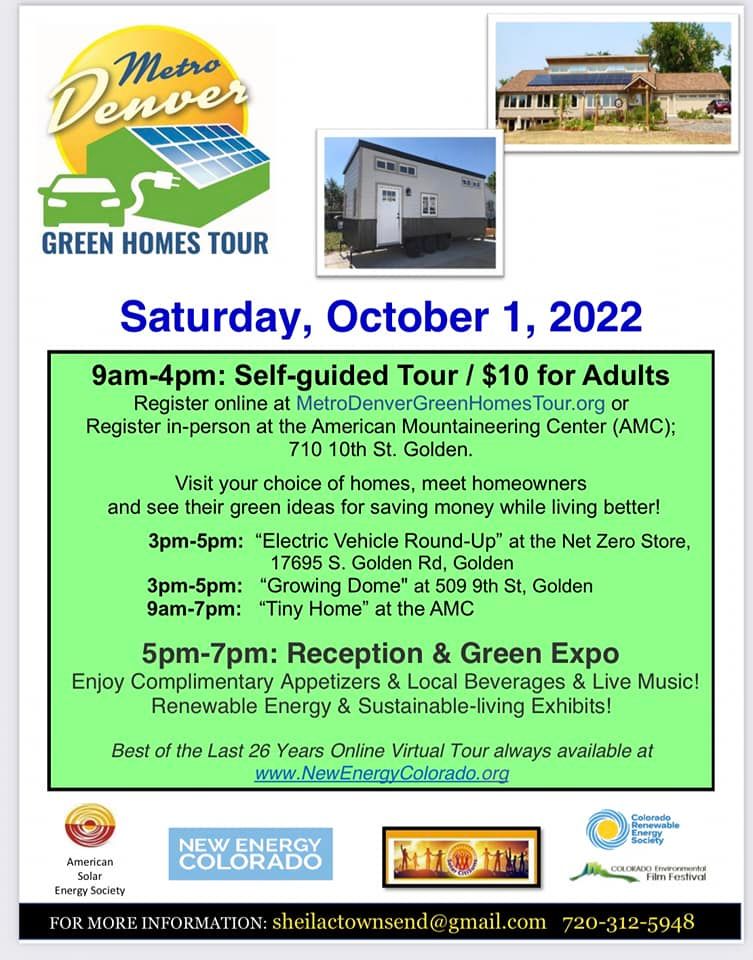 Join this annu­al event on Octo­ber 1st from 9am to 4pm to sit in the pas­sen­ger seat of an EV and tour var­i­ous "green" homes. Ask all your EV ques­tions and learn about ways you can be more sus­tain­able in your own home!
The event is $10 for every adult and you can reg­is­ter here.
The Metro Den­ver Green and Sus­tain­able Home com­mit­tee has been con­tribut­ing to the Amer­i­can Solar Ener­gy Soci­ety (ASES) Nation­al Solar Home Tour since 1996. Home­own­ers on the Nation­al ASES tour are pas­sion­ate to share with the pub­lic what they have learned to help cre­ate a more sus­tain­able earth. Our com­mit­tee starts knock­ing on doors of inter­est­ing look­ing homes and Com­mu­ni­ty liv­ing — from Jan­u­ary through June. We are look­ing for new resource­ful ideas in many aspects of sus­tain­abil­i­ty such as: Gar­dens instead of blue­grass lawns, reduced water use, ani­mals, Insu­la­tion tech­niques, Trans­porta­tion shar­ing, and of course the most ener­gy effi­cient and fun homes that YOU the pub­lic get to walk through — EXCEPT for this year of Covid. ALWAYS REMEMBER that the tour is held on the First Sat­ur­day of Octo­ber of EVERY YEAR. Enjoy learn­ing what you can do to your own home or apart­ment and life, to save ener­gy and reduce your usage of our pre­cious Fos­sil Fuels.