EV owners may qualify for a state or federal tax credit for the purchase/lease of a plug-in hybrid and/or battery electric vehicle.
This page was last updat­ed on Octo­ber 26, 2022.
Dis­claimer: Dri­ve Elec­tric Col­orado and its affil­i­ates are not tax advi­sors. This infor­ma­tion is pro­vid­ed to help you make an informed deci­sion. Please con­sult your tax advi­sor for advice about your spe­cif­ic sit­u­a­tion.
Colorado Tax Credits
$2,500 cred­it received with state income tax refund for full bat­tery elec­tric vehi­cle (BEV) — may be applied at pur­chase with many elec­tric vehi­cle manufacturers
$1,500 for 2‑year min­i­mum leases
Unused tax cred­it can be rolled for­ward to future years
Col­orado res­i­dents are able to claim an addi­tion­al state tax cred­it of $2,500 when they buy an elec­tric vehi­cle. Some deal­ers offer this at point of sale. The cred­its decrease every few years from $2,500 dur­ing Jan­u­ary 2021 — 2023 to $2,000 from 2023–2026. For leas­es: $1,500 between 2021 to 2026. For tax years Jan­u­ary 1, 2010 — Jan­u­ary 1, 2022, the cred­its are refund­able. The cred­it is first applied against the income tax lia­bil­i­ty of the per­son who pur­chas­es or leas­es the qual­i­fy­ing motor vehi­cle. If the cred­it exceeds the tax due, the excess cred­it will be refund­ed. For addi­tion­al details, please vis­it Col­orado FYI Income 69.
Federal Electric Vehicle Tax Credits
For New EVs
Up to $7,500 tax credit

$3,750 if the vehi­cle has bat­tery com­po­nents that are man­u­fac­tured or assem­bled in North Amer­i­ca (list­ed here: https://afdc.energy.gov/laws/inflation-reduction-act)

Anoth­er $3,750 if the vehi­cle has crit­i­cal min­er­als that were extract­ed or processed in the U.S. or coun­tries with which the U.S. has a free trade agree­ment, or use crit­i­cal min­er­als that were recy­cled in North America.

Into effect as of August 16, 2022

Only cars under $55,000 or SUVs, vans, and pick­up trucks under $80,000 are eli­gi­ble for the credit.

Income caps for con­sumers: $150,000 for sin­gle fil­ers, $225,000 for head of house­hold and $300,000 for joint filers.

Lease cred­it goes to leas­ing com­pa­ny – may low­er lease cost
Select Tes­la & GM vehi­cles eli­gi­ble start­ing in 2023
New elec­tric vehi­cles pur­chased after 2010 may be eli­gi­ble for a fed­er­al income tax cred­it of up to $7,500 — assum­ing suf­fi­cient income tax appetite. The cred­it amount will vary based on the capac­i­ty of the bat­tery used to pow­er the vehi­cle. Lease cred­it goes to the leas­ing com­pa­ny, typ­i­cal­ly low­er­ing the lease cost. Writ­ten bind­ing con­tracts (non-refund­able deposit or down pay­ment of 5% of the total con­tract price) to pur­chase a qual­i­fy­ing elec­tric vehi­cle before August 16, 2022 should not be affect­ed by new tax cred­it stip­u­la­tions. More infor­ma­tion here.
*Vehi­cles NOT eli­gi­ble include GMC Hum­mer EV, Lucid Air, Tes­la Mod­el S and Mod­el X (exceeds pric­ing lim­it) and BMW i4, Hyundai Ion­iq 5, Kia EV6, Sub­aru Solter­ra, and Toy­ota bZ4X (not assem­bled in North America).
—–
For Used EVs
$4,000 or up to 30% of the vehi­cle price (whichev­er is lower)

Only eli­gi­ble for vehi­cles under $25,000, at least 2 years old, pur­chased from a dealer

Income caps for con­sumers: $75,000 for sin­gle fil­ers, $112,500 for head of house­hold and $150,000 for joint filers.

Into effect Jan­u­ary 1, 2023
For oth­er fre­quent­ly asked ques­tions about the EV tax cred­its from the Infla­tion Reduc­tion Act, please click
here
.
Federal Alternative Fuel Infrastructure
Tax Credit
For EV Chargers:
Individuals/Residents: tax cred­it cov­ers 30% (up to $1,000 per unit) of the cost of the EV charg­ing equipment
For com­mer­cial uses, the tax cred­it cov­ers 6% (up to $100,000 per unit) of the cost of the equipment
Bidi­rec­tion­al charg­ing equip­ment is eligible
2 and 3 wheeled equip­ment is eli­gi­ble (like e‑bikes!)
Start­ing after 2022, equip­ment must be placed in a low-income com­mu­ni­ty or non-urban area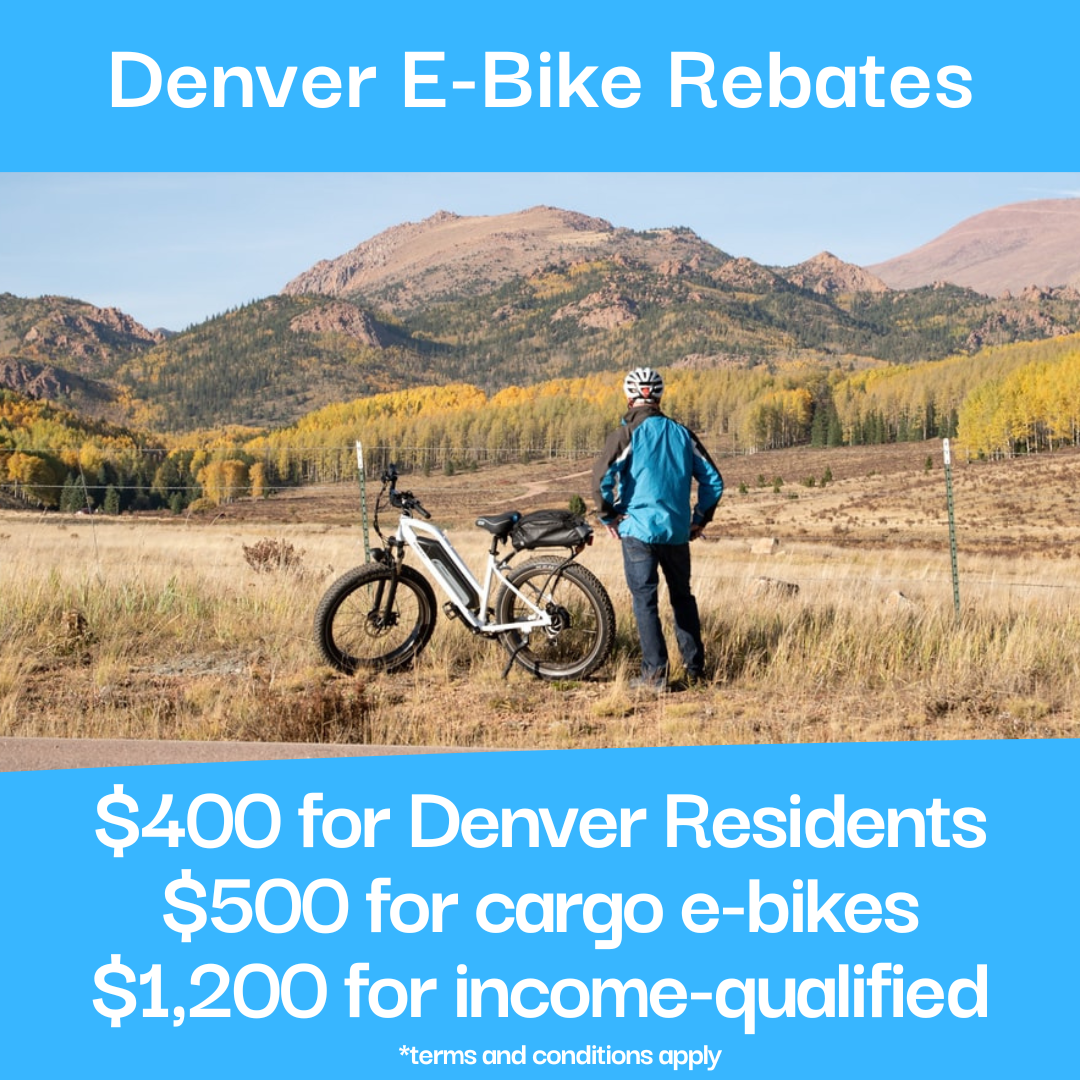 Denver E‑Bike Rebates
E‑bike Rebates:
Due to its over­whelm­ing pop­u­lar­i­ty, fund­ing for the e‑bike rebate pro­gram has been exhaust­ed and will remain on pause for the remain­der of 2022. The rebate pro­gram is expect­ed to relaunch in ear­ly 2023. To be noti­fied for updates on the pro­gram, please sub­scribe to our newslet­ter.

The appli­cant must be a res­i­dent of Den­ver, Col­orado and 16 years of age or old­er. Proof of a phys­i­cal Den­ver address is required.

$400 for all Den­ver res­i­dents, $1,200 for income-qual­i­fied residents
Addi­tion­al $500 for e‑cargo bikes
Incen­tive can­not exceed the total pur­chase price
One e‑bike per person
Full-sus­pen­sion moun­tain bikes are exclud­ed from the program
No min­i­mum or max­i­mum pur­chase price
Must be pur­chased from a par­tic­i­pat­ing bike shop, which can be found here
Den­ver res­i­dents can now receive up to $1,700 in rebates for pur­chas­ing an elec­tric bike. Terms and con­di­tions apply. Rebates are com­pet­i­tive and inter­est­ed indi­vid­u­als should sub­scribe to Den­ver Gov's newslet­ter to be noti­fied of appli­ca­tion release days. About half of all rebates are pri­or­i­tized for income-qual­i­fied applicants.
Denver EV Charging Rebate
This pro­gram is closed for 2022. Please check back in 2023. EV charg­ing sta­tion rebates will be clos­ing on Octo­ber 24, 2022. Projects must be installed on or before the 24 to be eli­gi­ble for rebates through our pro­gram. These rebate pro­grams will re-open in 2023.

Up to $1,000 in rebate for EV home wiring upgrades
Can be stacked with Xcel Energy's EV Charg­ing rebate
More info here