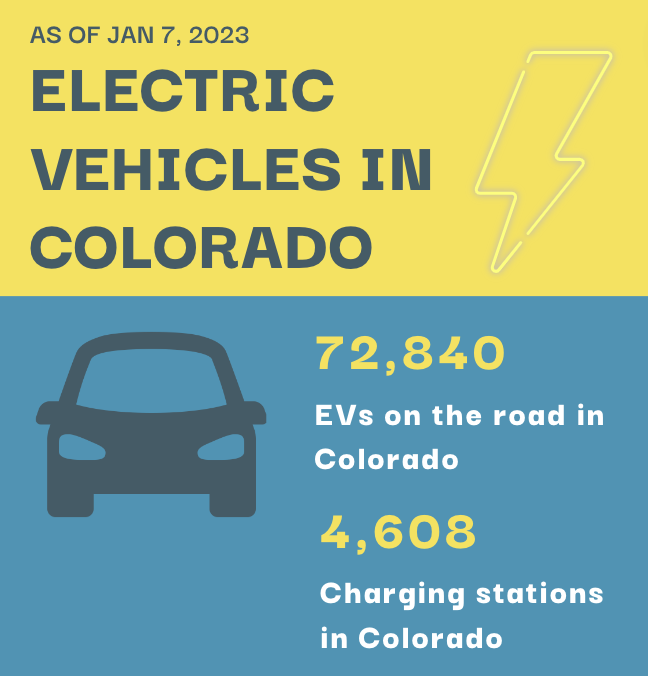 Dri­ve Elec­tric Col­orado presents an EVs in Col­orado report.
Using data from the Col­orado Ener­gy Office's EV Dash­board and the Alter­na­tive Fuel­ing Sta­tion Loca­tor from the Depart­ment of Ener­gy, below is the most cur­rent and accu­rate sales data for EVs and charg­ing data by coun­ty, make/model, and elec­tric vehi­cle type.
As of Jan­u­ary 7, 2023, there were 72,840 EVs on the road in Col­orado, up from 66,599 EVs since Octo­ber 1, 2022. Of this total, 52,257 were bat­tery elec­tric vehi­cles (BEV) and 20,583 were plug-in hybrid elec­tric vehi­cles (PHEV). EVs make up around 7.86% of all vehi­cles on the road in Col­orado. There are approx­i­mate­ly 12.81 EVs per 1,000 people.
The aver­age EV range in Col­orado is 193.62 miles. Aver­age BEV range is 256.91 miles while PHEV range is 29.91 miles. Aver­age BEV MSRP is $47,482.67 while aver­age PHEV MSRP is $44,272.77.
The most com­mon com­mute time is between 15–30 min­utes, with com­mutes 30–60 min­utes com­ing in sec­ond (28.96%) and com­mutes 15 min­utes or less falling close­ly behind (26.37%).
Key points from the most cur­rent data since June 1, 2022:
Elec­tric vehi­cle adop­tion was up 9.37% (+6,241 EVs) in only two months from Octo­ber 1, 2022.
Top sell­ing elec­tric car makes:

Tes­la
Nis­san
Chevro­let
Jeep
BMW
Ford
There are cur­rent­ly 4,608 total pub­lic charg­ing ports avail­able in Col­orado, up 284 ports from Octo­ber 1, 2022. With­in this total, 3,853 of these are Lev­el 2 charg­ers, and 755 of these Lev­el 3/DC fast charg­ers. Charge­Point Net­work has pro­vid­ed most of these Lev­el 2 ports (2,138) and Tes­la owns the most DC fast charg­er ports (316). Charg­ing ports are up 6.7% over­all this quarter.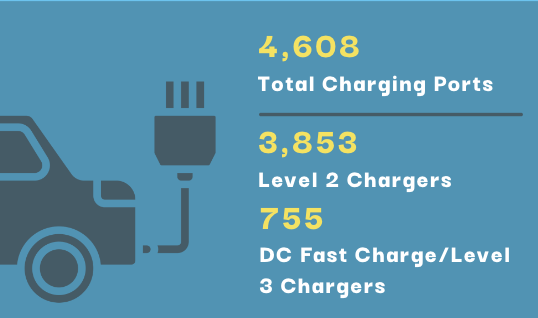 Break­ing it down by coun­ty and vehi­cle mod­el, here are the top mod­els and top coun­ties where EVs are on the road:
11,967 elec­tric vehi­cles (8,559 BEVs and 3,298 PHEVs)
809 total charg­ing ports
9,840 elec­tric vehi­cles (7,363 BEVs and 2,477 PHEVs)
713 total charg­ing ports
8,584 elec­tric vehi­cles (6,275 BEVs and 2,409 PHEVs)
472 total charg­ing ports
8,019 elec­tric vehi­cles (5,945 BEVs and 2,074 PHEVs)
285 total charg­ing ports
El Paso County
6,267 elec­tric vehi­cles (4,434 BEVs and 1,833 PHEVs)
182 total charg­ing ports