The Zero SR/S Electric Motorcycle
It's not every­day you see an elec­tric motor­cy­cle. We almost didn't notice that it was elec­tric until real­iz­ing the lack of noise meant it didn't have a loud gas engine. "They're one of only a hand­ful in the state," said Rob Schwartz, own­er of the Zero SR/S elec­tric motor­cy­cle. He bought it in July of 2021 from a Harley David­son deal­er­ship in Col­orado Springs and has loved rid­ing it since.
The motor­cy­cle gets around 90–120 miles and has a max­i­mum speed of 124 mph. (Rob con­firmed it can be a bit nerve-wrack­ing get­ting instant torque on a motor­cy­cle!) It also has four regen­er­a­tion modes, plus a cus­tom option, allow­ing the rid­er to tog­gle between regen­er­a­tive brak­ing strengths to soft­en or increase accel­er­a­tion, extend range or gain bet­ter trac­tion in poor weath­er con­di­tions. It can be charged ful­ly on a Lev­el 1 charg­er in 4 hours, or on a Lev­el 2 charg­er in around 45 minutes.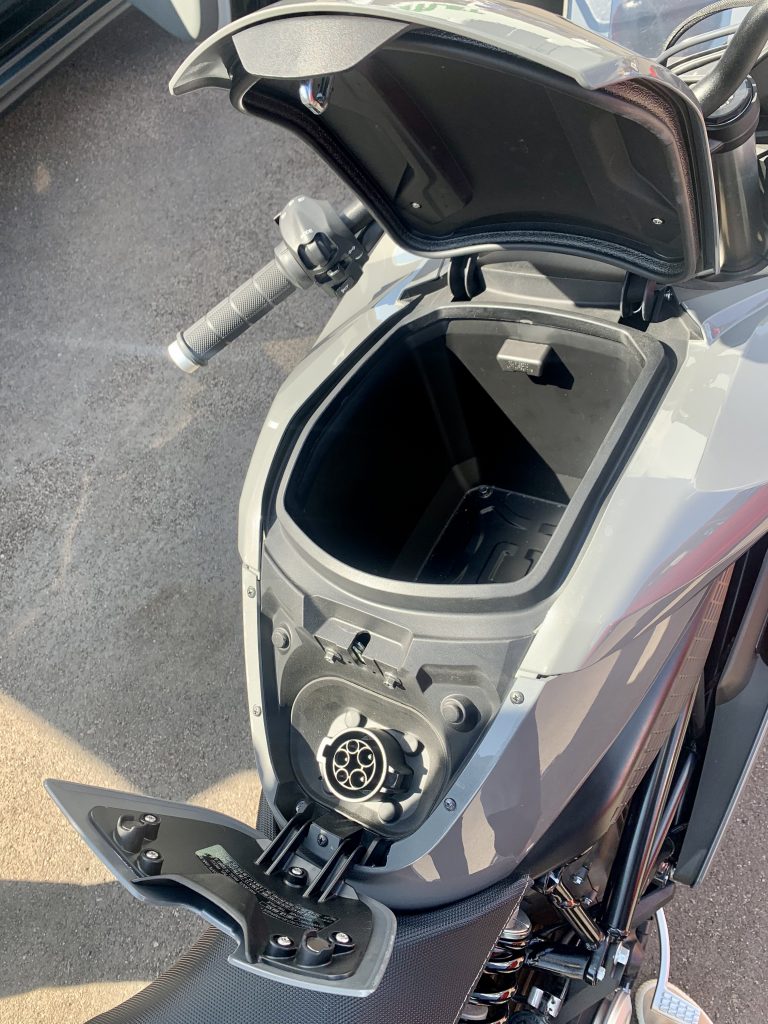 The bike can be con­nect­ed to the Zero Motor­cy­cles smart­phone app which noti­fies the rid­er of its charg­ing sta­tus, can mon­i­tor loca­tion sta­tus and alerts, share ride data with oth­ers, and per­form sys­tem upgrades and updates. Stor­age can be found inside the seat, as well as fac­to­ry-installed charg­ing ports for your phone. The elec­tric motor and the 14.4 kWh bat­tery, called a "pow­er pack", are locat­ed under­neath. Elec­tric motor­cy­cles also require less main­te­nance than gas-pow­ered motor­cy­cles do. Rid­ers don't need t wor­ry about oil or oil fil­ter changes, coolant changes (elec­tric motor­cy­cles do not require coolant as they don't get as hot as gas-pow­ered motor­cy­cles do), or any work with clutch­es or spark plugs. Plus, the Zero SR/S uses a dri­ve belt instead of a chain, cut­ting back on even more maintenance.